1400U Super Tires Urethane .704/17.88mm SLot.it NSR
$7.99
Super Wheels, Designed to fit most 15x08mm wheels.
Slot.it, 15x8mm (SIPA04-15-17-24-WH1183-1210), Audi R8C (original), Jaguar XJR6/9/12, Lancia LC2/85, Mercedes Sauber C9, Porsche 956, Porsche 956 (EVO6), Porsche 962, Porsche 962 (EVO6), Ferrari 312PB, Ford GT40, Mazda 787B, Ford Mk II, Toyota 88C, Chapparal 2E.
NSR, 16x08mm (5001-5002).
Sloting Plus, 14.6x8mm, 15.0x8mm, 15.5x8mm, 15.9x8mm, 16.2×8.5mm.
SCX, Fiat Abarth 124.
The picture is for illustration purposes only. Nearly all the Super Tires we sell will have the radius on the tire but not all.
Description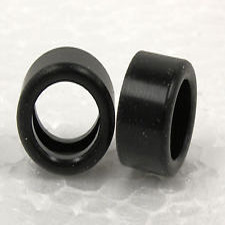 Additional information
| | |
| --- | --- |
| Weight | 0.10 lbs |
| Dimensions | 1 × 1 × 1 in |
| Super Tires 1400R | Silicone, Urethane, Low Grip |