A TruSpeed Digital Controller with BRAKE Button for Carrera Tracks, Lightly Used.
$94.99
Carrera-D II Controller for Carrera Digital Slot Cars
Now you can adjust the sensitivity and feel of the controller, even while you drive.
Digital slot-car controller with Lane Change Buttons, Sensitivity Knob and brake button.
German Review (car-on-line.de)
Direct plug-in replacement for the original controllers
Sensitivity Control Adjustment Knob. Turn Clockwise to increase sensitivity
Spring Tension Adjuster
Nickle/Gold Plated Element Board Contacts with Stainless Steel Finger contact Points
New Wiper Contact Board can be cleaned without opening
User changeable single and double finger Trigger
Spare parts available
Weight  ………………………….325g
Packing Dimensions  ……….200x100x40  mm
Maintenance:
 

Once you feel a scratchy operation or can hear squeaking then it is advisable to apply a small amount of switch Cleaner/Lubricant to the wiper contact board. This will keep a smooth, light action and maintain the contact integrity
Be sure not to bend the cable at the exit of the handle. The wiring will break from metal fatigue after a while and cause intermittent operation. Wind the cable into a gentle coil and it will last.
Out of stock
Description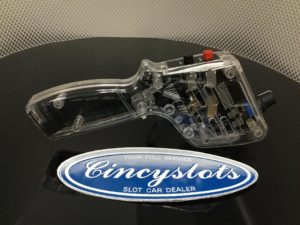 Additional information
| | |
| --- | --- |
| Weight | 0.75 lbs |
| Dimensions | 6 × 4 × 4 in |