1402R Super Tires Silicone .748/19mm OD
$7.99
Super Wheels, Designed to fit most 15x08mm wheels.
Slot.it, 15x8mm 15x8mm (SIPA04-15-17-24-WH1183-1210), Audi R8C (original), Jaguar XJR6/9/12, Lancia LC2/85, Mercedes Sauber C9, Porsche 956, Porsche 956 (EVO6), Porsche 962, Porsche 962 (EVO6), Ferrari 312PB, Ford GT40, Mazda 787B, Ford Mk II, Toyota 88C, Chapparal 2E, Alfa 33/3, McLaren F1 GTR (RAW), Nissan R390 (RAW)
NSR, 16x08mm (5001-5002), Fiat Abarth 500, Porsche 917K, Ford GT40, Ford Mk IV, Ford P68, Mosler MT900R
Sloting Plus, 14.6x8mm, 15.0x8mm, 15.5x8mm, 15.9x8mm, 16.2×8.5mm.
SCX, BMW 320i, Rally, Morgan Aero 8, Seat Cupra GT, Tuner Car 2.
Artin Mercedes CLK, Porsche GT1.
Cartrix BMW, Porsche.
Ninco Rally, Mini-Cooper, Pro-Race 15 Wheels (#80718).
Racer Capri, Lancia
The picture is for illustration purposes only. Nearly all the Super Tires we sell will have the radius on the tire but not all.
In stock
Description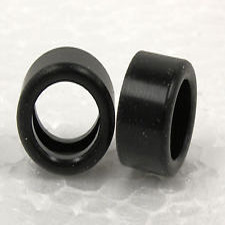 Additional information
| | |
| --- | --- |
| Weight | 0.10 lbs |
| Dimensions | 1 × 1 × 1 in |
| Super Tires 1402R | Silicone, Urethane, Low Grip |